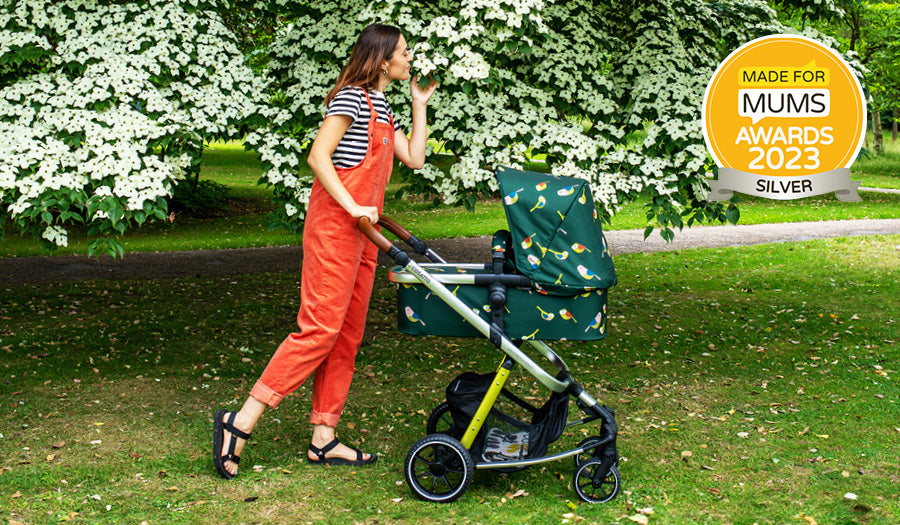 Giggle Trail is the essential travel system with extras. It has multi-terrain tyres, a large basket and a seat unit which will take up to 20kg (approx. 4 years old). This one box bundle includes a 4-wheel chassis, carrycot, seat unit, raincover and Tote i-Size 0+ car seat with adaptors.
Giggle Trail includes a spacious carrycot with ample space to accommodate growing babies up to 9kg (approx. 6 months old). The thick supportive mattress makes it ideal for occasional overnight sleeping, whilst the carrycot liner is machine washable for ultimate freshness.
Giggle Trail is designed for the long haul. The separate seat unit with detachable bumper bar is tested all the way up to a mighty 20kg so your child can use it for even longer. The duo-directional seat allows your child to face you or face out to see the world. It has multiple recline positions - from upright to laid-back lounging. Plus there's a supersized basket with 5kg capacity - for the biggest of shopping sprees.
Compact Giggle Trail is your go-anywhere, stow-anywhere hero with easy, quick flat-folding lightweight chassis. It's great for smaller cars and busy lives. With all-round suspension and enhanced all-terrain puncture-proof tyres, this sturdy 4-wheeler makes for a smooth ride.
The Cosatto industry-leading 4-year guarantee offers cover like no other, for ultimate peace of mind. Giggle Trail 3 in 1 i-Size unites Cosatto's passion for design and baby science. It's crafted with engaging, baby-pleasing patterns in the hood. Put your baby at the heart of the story and the heart of Great British Design.
Specification
Maximum Weights
Carrycot: Birth -9kg
Seat Unit: 20kg
Basket Weight: 5kg
Measurements
Folded: L:93cm x W:61cm x H:27cm
Handle Height: 72cm -106cm
Basket Size: W:29 cm x D:25 cm x L:33 cm
Weight
Carrycot Weight: 4.2kg
Seat Unit Weight: 2.9kg
Chassis Weight: 8kg
Features
Features
Suitable from birth up to 20kg
Includes carrycot, pushchair seat, matching Tote i-Size group 0+ car seat with adaptors
4-wheel chassis with all-round suspension for a smoother ride
Height adjustable handle for your pushing comfort
Spacious storage basket for all your bits, bobs, and big stuff
Quick-release, removable premium wheels with bearings for added glide
'Push on - push off' brake
Compact, easy-fold lightweight aluminium chassis with handy auto lock to keep it folded in transit or storage
Includes the original Cosatto raincover
Comes with industry-leading 4-year guarantee for your peace of mind
Carrycot
Carrycot suitable from birth up to 9kg (approx. 6 months)
Thick supportive mattress
Carrycot suitable for occasional overnight sleeping
Seat Unit
Reversible pushchair seat suitable from approx. 6 months up to 20kg so your child can use it for even longer
It's duo-directional so your baby can bond with you or enjoy the view
4 position recline
Tote i-Size Car Seat
Complies with the latest R129 safety regulation and is i-Size compliant when used with Tote i
Size base (sold separately)
Rearward facing from birth (40cm) up to approx. 15 months (87cm)
Removable new-born seat liner creates optimum seat shape and adjustment for small babies
Can be fitted with standard 3-point vehicle seatbelt or with ISOFIX (when paired with Tote i-Size base)
Easy one-handed simultaneous harness and headrest adjust. No rethreading.
UPF 100+ adjustable canopy
Where can I fit this car seat?
40-87cm rearward facing, fitted using the vehicle belt only.
40-87cm rearward facing, fitted using the ISOFIX low anchorage points with support-leg only.
Tote i-Size Base
Conforms to R129/03 standard
Allows for Tote i-Size car seat to be used with ISOFIX or i-Size
Compatible with Tote i-Size car seat
Easy to install using ISOFIX points in the car
Has visual indicators to confirm correct fitting in your car
Collapsible leg for transportation and storage
Footmuff
Custom-crafted to fit your pushchair perfectly.
Padded for extra snuggles with kangaroo pouch for cosy little hands.
Summer fresh option. Just flip the liner.
Longer length for a longer lifespan.
Washable. Hand wash at 30 degrees.
Changing Bag
Keep your baby's bottle safe with the elastic bottle holder.
Padded wipe-clean changing mat.
Lined with coordinating patterned fabric.
1 inner pocket.
Adjustable shoulder strap.
Zip closure for security.
Coordinates with your pram or pushchair
Reviews